Ambassador Levels
coach – contributes by assisting programming staff in successfully delivering the life skills experience via coaching and mentoring, especially PLAYer level, to underserved youth throughout the service area.
donor – contributes to the program via monetary or equipment donations either monthly or yearly that assists in resources allowing the life skills experience to operate successfully.
board member – contributes by helping orchestrate and promote the program through events, in the community, add resources, and finding and retaining ambassadors in all facets through board terms.
event – contributes as a committee member assisting in orchestrating planning and day of events, this may include selling sponsorships, selling teams/tables, etc to a designated event
influencer – contributes by supporting awareness of the program through social media twice a year either promoting a specific event or upcoming life skills experience events
Ambassador Coach Information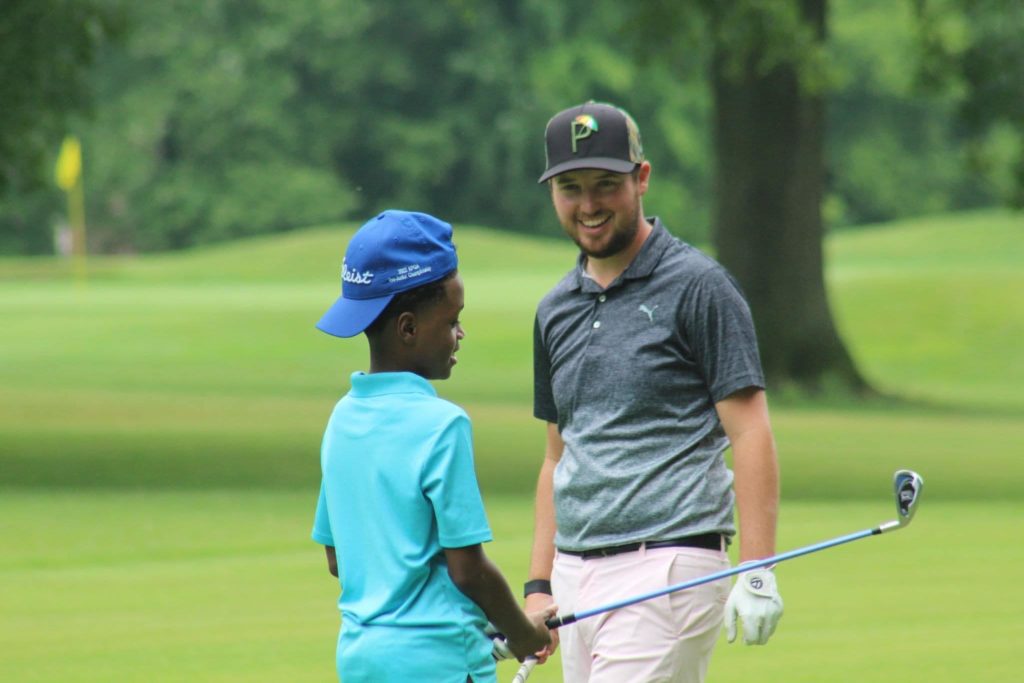 There are more than 3,700 coaches signed up at the First Tee including PGA and LPGA Pros but our ambassador coaches make up the majority of coaches and help keep First Tee chapters running! You don't have to be a golf professional or a good golfer to make a difference, we will provide the training you need! If you enjoy golf and positively impacting youth's lives, then you have the ability to help coach! Youth just need mentors, positive reinforcement, and encouragement from their First Tee coaching staff!
Do you have interest introducing golf to youth or teaching the next generation of game changers? Then become a First Tee – Louisville Ambassador Coach! Ambassador Coaches help youth with the basics of golf, safety, and life skills as they navigate new lesson plans each week. First Tee Coaches teach golf to youth while seamlessly integrating life skills that we call the Five Key Commitments which are: collaborating with others, using good judgment, growing through challenge, pursuing goals, and building positive self-identity.
Benefits of Ambassador Coaching Include:
FREE First Tee – Louisville merchandise
FREE golf at Shawnee Golf Course and Bobby Nichols Golf Course
Ambassador Coach Appreciation Day
Various FREE spots in organization sponsored golf events
Networking opportunities at events
Ability to coach different nights of the week at various locations across Louisville
End-of-the-year gift
Why Coaching is important:
Coaching is extremely vital in order to build a positive youth's development. Building a meaningful relationship between youth and a coach can impact them for the rest of their lives. Coaches can help our participants unlock their full potential and discover what is inside of them. Coaches help strengthen and provide them the tools to feel empowered. Without mentorship, the positive youth development does not happen. Our coaches have the ability to help young people set goals and reach their full potential for a successful future.
Training:
In order to coach, we provide Ambassador Coach Trainings before we begin Spring Programming. We also offer Level I First Tee trainings throughout the year. Ambassador Coaches also must complete a background check and online SafeSport Training. Our training system is built on research-proven methods of positive youth development!
Become an Ambassador Coach